Sugar Cone Bird Feeders
March 22, 2021
YLAH March Bonus Kit
Included in your kit:
3 sugar cones
1 cup of Cheerios
1 cup of bird seed
10 inches of yarn/string
Additional supplies needed:

1/2 cup of peanut butter, SunButter, or almond butter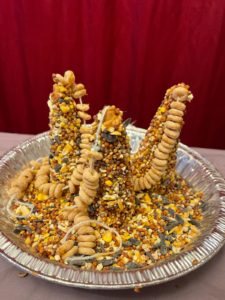 Directions:
1. Gently cut or break the tip off of the ice cream cone (not too much just enough to fit a string through).
2. Tie a knot at one end of your string and thread through the inside of the cone.
3. Add Cheerios onto the string leaving enough room to knot the Cheerios in place and tie a loop at the top to hang outside.
4. Next generously spread peanut butter all over the outside of the cone.
5. Roll cone around in bird seed until covered.
6. Hang your feeder outside and watch the birds enjoy!
Recommendations:
Arlo & Pips: Volume 1: King of the Birds by Elise Gravel
13 Words by Lemony Snicket
Balance the Birds by Susie Ghahremani
The Atlas of Amazing Birds by Matt Sewell
***We would love to see your completed projects. Share photos with us by using #nlibertylibrary on Instagram or by email at nlibertylibrary@gmail.com.