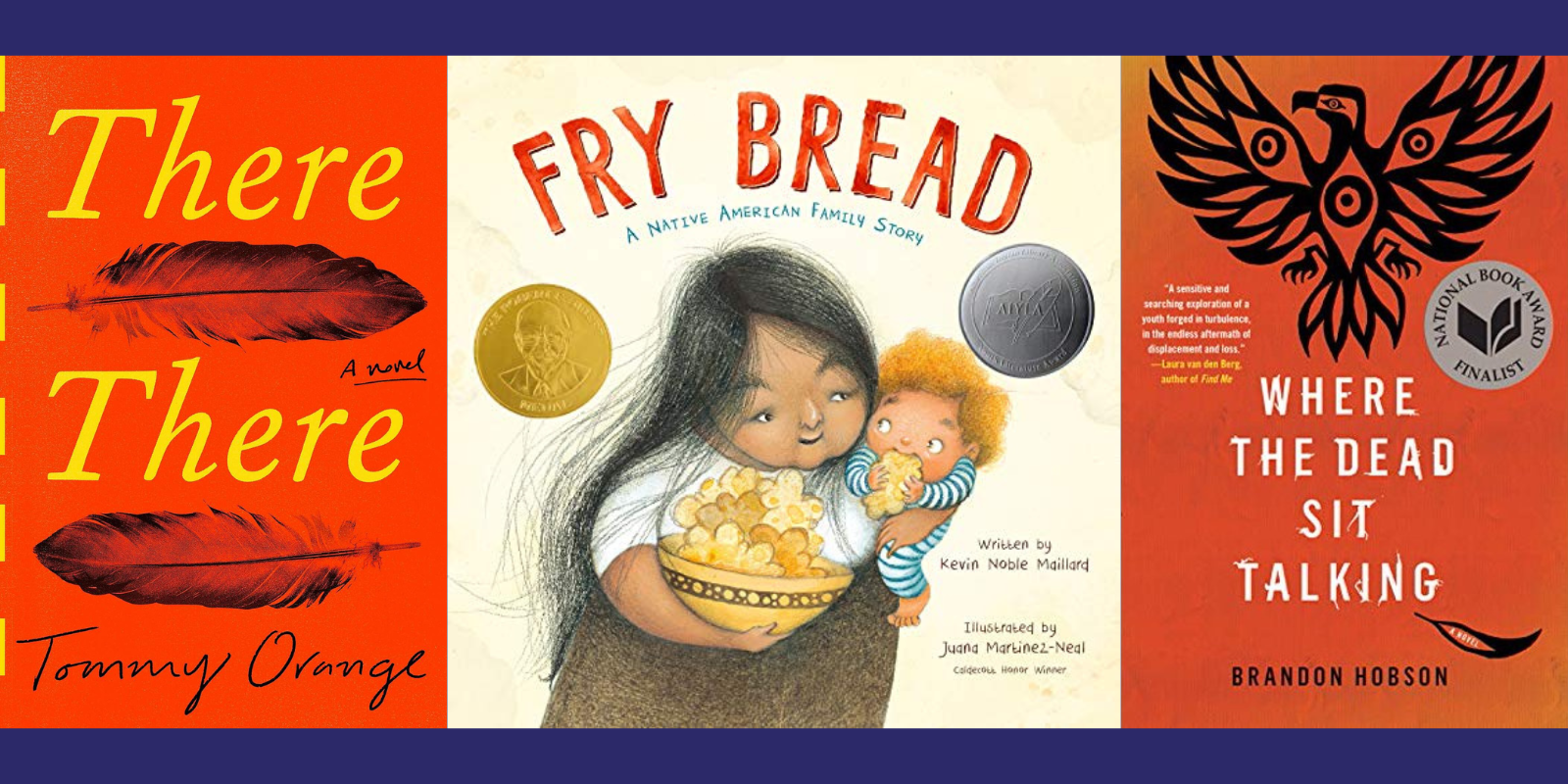 Native American Heritage Month Reads
November 7, 2023
This post was written by one of our library assistants, Alexa.
On August 3, 1990, President George H.W. Bush declared the month of November as National American Indian Heritage Month, also referred to as Native American Heritage Month. During this month, we celebrate and honor the rich and varied cultures, traditions, and histories of Native peoples.
There are many ways to commemorate Native American Heritage Month. One way is to learn what Native lands you live on through the Native Land website, created by the Indigenous-led, Canadian non-profit Native Land Digital. You can type in your address to learn more about the land where you live or where you grew up.
Book Recommendations:
● There, There by Tommy Orange (Fiction): Tommy Orange's wondrous and shattering novel follows twelve characters from Native communities: all traveling to the Big Oakland Powwow, all connected to one another in ways they may not yet realize.
● Where the Dead Sit Talking by Brandon Hobson (Fiction): Set in rural Oklahoma during the late 1980s, Where the Dead Sit Talking is a startling, authentically voiced and lyrically written Native American coming-of-age story.
● The Seed Keeper by Diane Wilson (Fiction): Weaving together the voices of four indelible women, The Seed Keeper is a beautifully told story of reawakening, of remembering our original relationship to the seeds and, through them, to our ancestors.
● Braiding Sweetgrass: Indigenous Wisdom, Scientific Knowledge and the Teachings of Plants by Robin Wall Kimmerer (NF/Science/Nature): In Braiding Sweetgrass, Robin Wall Kimmerer gives us a unique view on how to care for Mother Nature. As a Native American and environmental biologist, she brings a unique perspective on how to face our environmental challenges.
● Heart Berries by Terese Marie Mailhot (NF/Autobiography): Heart Berries is a powerful, poetic memoir of a woman's coming of age on the Seabird Island Indian Reservation in the Pacific Northwest.
● Two Old Women: An Alaskan Legend of Betrayal, Courage and Survival by Velma Wallis (NF/Mythology): Based on an Athabascan Indian legend passed along for many generations from mothers to daughters of the upper Yukon River Valley in Alaska, this is the suspenseful, shocking, ultimately inspirational tale of two old women abandoned by their tribe during a brutal winter famine.
● The Heartbeat of Wounded Knee: Life in Native America by David Treuer (NF/History): A sweeping history—and counter-narrative—of Native American life from the Wounded Knee massacre to the present. In The Heartbeat of Wounded Knee, Treuer melds history with reportage and memoir to create an essential, intimate story of a resilient people in a transformative era.
● Fry Bread: A Native American Family Story by Kevin Noble Maillard (Primary):Told in powerful verse by debut author Kevin Noble Maillard, Fry Bread is an evocative story about family, history, culture, and traditions, new and old, illustrated by Caldecott Honor artist Juana Martinez-Neal.
● The Absolutely True Diary of a Part-Time Indian by Sherman Alexie (Teen): Heartbreaking, funny, and beautifully written, The Absolutely True Diary of a Part-Time Indian, which is based on the author's own experiences, chronicles the contemporary adolescence of one Native American boy as he attempts to break away from the life he was destined to live.
● Berry Song by Michaela Goade (Primary): On an island at the edge of a wide, wild sea, a girl and her grandmother gather gifts from the earth. Salmon from the stream, herring eggs from the ocean, and in the forest, a world of berries. Caldecott Medalist Michaela Goade's first self-authored picture book is a celebration of the land she knows well and the wisdom of elders.
● The Marrow Thieves by Cherie Dimaline (Teen Science Fiction): In a futuristic world ravaged by global warming, people have lost the ability to dream, and the dreamlessness has led to widespread madness. The only people still able to dream are North America's Indigenous people, and it is their marrow that holds the cure for the rest of the world.
● Makoons by Louise Erdrich (Juvenile): Living with their Ojibwe family on the Great Plains of Dakota Territory in 1866, twin brothers Makoons and Chickadee must learn to become buffalo hunters, but Makoons has a vision that foretells great challenges that his family may not be able to overcome.