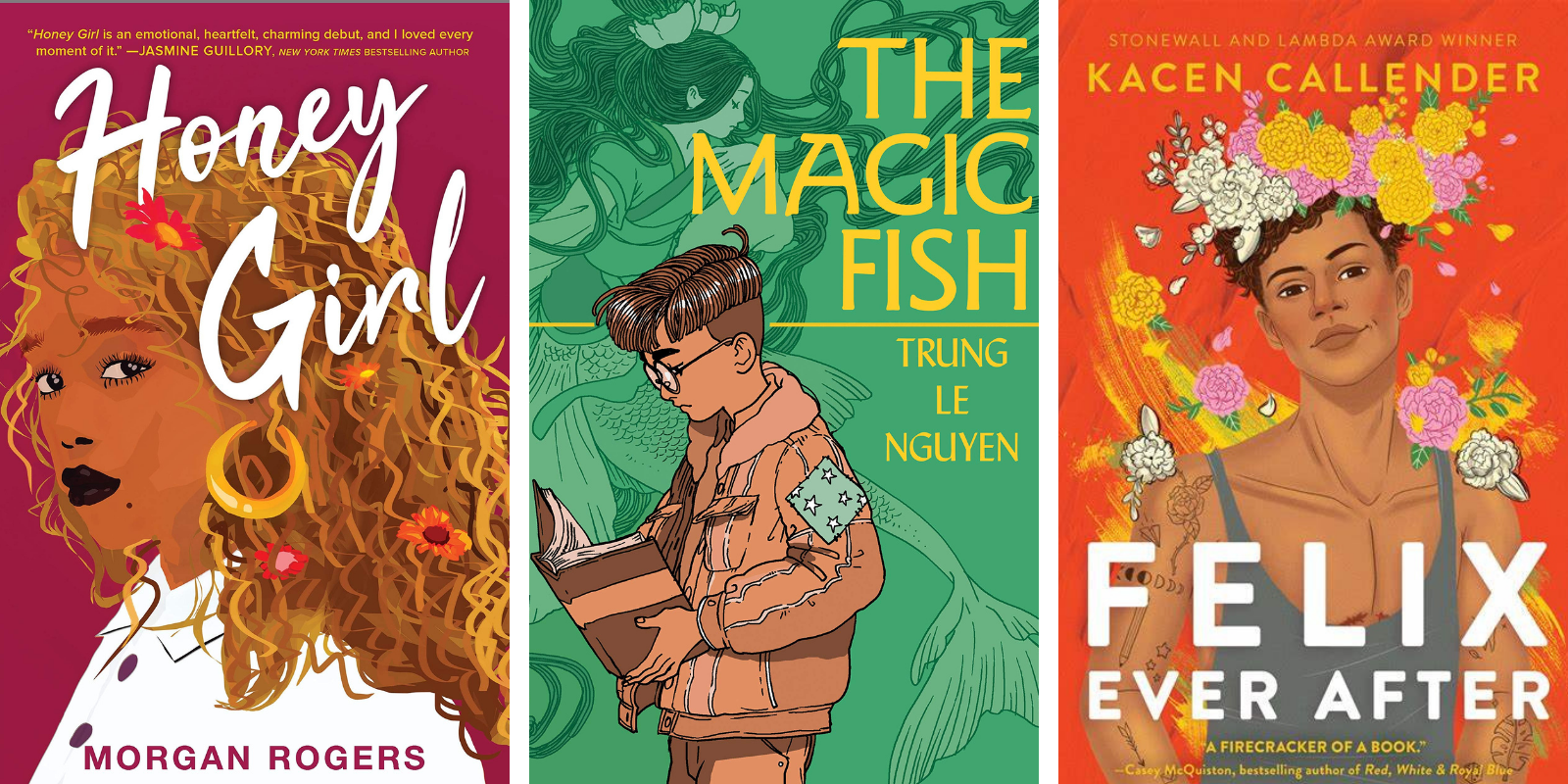 Check out these LGBTQIA+ reads to celebrate Pride.
The Hips on the Drag Queen Go Swish, Swish, Swish: This picture book encourages readers to boldly be exactly who they are. The story plays off "The Wheels on the Bus" as it follows a drag queen who performs her routine in front of an awestruck audience. A fun frenzy of fierceness, this book will appeal to readers of all ages.
Felix Ever After: Felix Love, a transgender seventeen-year-old, attempts to get revenge by catfishing his anonymous bully, but lands in a quasi-love triangle with his former enemy and his best friend.
Pet: In a near-future society that claims to have gotten rid of all monstrous people, a creature emerges from a painting seventeen-year-old Jam's mother created, a hunter from another world seeking a real-life monster.
Full Disclosure: The uplifting story of an HIV-positive teen, falling in love and learning to live her truth. Simone Garcia-Hampton is starting over at a new school, and this time things will be different. Simone's first instinct is to protect the secret of her HIV status at all costs, but as she gains a deeper understanding of the prejudice and fear in her community, she begins to wonder if the only way to rise above is to face the haters head-on.
Stars and the Blackness Between Them: Told in two voices, sixteen-year-old Audre and Mabel, both young women of color from different backgrounds, fall in love and figure out how to care for each other as one of them faces a fatal illness.
The Deep: Yetu holds the memories for her people—water-dwelling descendants of pregnant African slave women thrown overboard by slave owners—who live idyllic lives in the deep. Their past, too traumatic to be remembered regularly, is forgotten by everyone, save one—the historian. Yetu remembers for everyone, and the memories are destroying her. And so, she flees to the surface where she will learn more than she ever expected to about her own past—and about the future of her people. If they are all to survive, they'll need to reclaim the memories and their identity—and own who they really are.
Honey Girl: Grace Porter is not the kind of person who goes to Vegas and gets drunkenly married to a woman whose name she doesn't know…until she does exactly that. This one moment of departure from her stern ex-military father's plans for her life has Grace wondering why she doesn't feel more fulfilled from completing her PhD in astronomy. Staggering under the weight of her parent's expectations, a struggling job market, and burnout, Grace flees her home in Portland for a summer in New York with the wife she barely knows. In New York, she's able to ignore all the constant questions about her future plans and falls hard for her creative and beautiful wife, Yuki Yamamoto. But when reality comes crashing in, Grace must face what she's been running from all along.
The Prophets: A singular and stunning debut novel about the forbidden union between two enslaved young men on a Deep South plantation, the refuge they find in each other, and a betrayal that threatens their existence.
The Magic Fish: Real life isn't a fairytale. But Tien still enjoys reading his favorite stories with his parents from the books he borrows from the local library. It's hard enough trying to communicate with your parents as a kid, but for Tien, he doesn't even have the right words because his parents are struggling with their English. Is there a Vietnamese word for what he's going through? Is there a way to tell them he's gay?
We Have Always Been Here: As an Ahmadi Muslim growing up in Pakistan, Samra Habib faced regular threats from Islamic extremists who believed the small, dynamic sect to be blasphemous. From her parents, she internalized the lesson that revealing her identity could put her in grave danger. When her family came to Canada as refugees, Samra encountered a whole new host of challenges: bullies, racism, the threat of poverty, and an arranged marriage. Backed into a corner, her need for a safe space—in which to grow and nurture her creative, feminist spirit—became dire. The men in her life wanted to police her, the women in her life had only shown her the example of pious obedience, and her body was a problem to be solved. So begins an exploration of faith, art, love, and queer sexuality, a journey that takes her to the far reaches of the globe to uncover a truth that was within her all along.
When They Call You a Terrorist: A memoir by the co-founder of the Black Lives Matter movement explains the movement's position of love, humanity, and justice, challenging perspectives that have negatively labeled the movement's activists while calling for essential political changes.
Nature Poem: A book-length poem about how an American Indian writer can't bring himself to write about nature, but is forced to reckon with colonial-white stereotypes, manifest destiny, and his own identity as a young, queer, urban-dwelling poet.