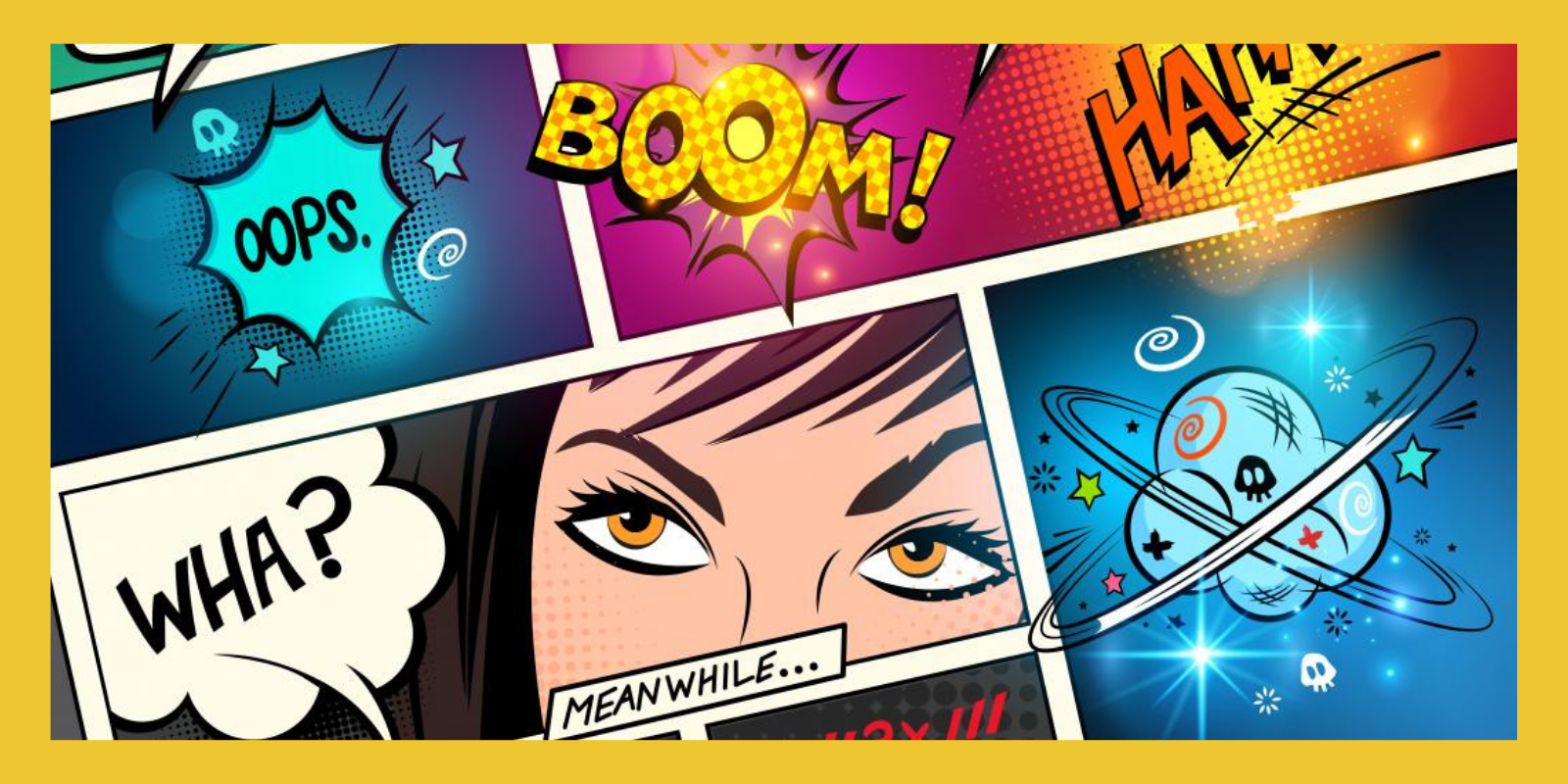 National Comic Book Day
September 24, 2021
BOOM! POW! WHA?
September 25th is National Comic Book Day and honors the art, artists, and stories of comic books.
How to celebrate
 
ComicsPlus Powered by LibraryPass
Visit ComicsPlus with your library card for unlimited access to thousands of digital comics, graphic novels, and manga. Access via desktop or download from your app store.
Comics to Check Out
Basketful of Heads (Hill House Comics) by Joe Hill (author) Leomacs (illustrator) Dave Stewart (illustrator)
Heads will roll…June Branch is in trouble. She's trapped on Brody Island with nowhere to run. Her boyfriend, Liam, has been kidnapped. And four bloodthirsty escaped convicts will stop at nothing to find her. All poor June has to defend herself with is a strange Viking axe with the terrifying power to decapitate a person and leave their head still talking. If she's going to save Liam and herself, June will have to keep a cool head…or even a whole basketful of them!
Cyclopedia Exotica by Aminder Dhaliwal
Doctor's office waiting rooms, commercials, dog parks, and dating app screenshots capture the experiences and interior lives of the cyclops community; a largely immigrant population displaying physical differences from the majority. Whether they're artists, parents, or yoga students, the cyclops have it tough: they face microaggressions and overt xenophobia on a daily basis. However, they are bent on finding love, cultivating community, and navigating life alongside the two-eyed majority with patience and the occasional bout of rage.
Die : Vol. 1 : Fantasy Heartbreaker by Kieron Gillen (author) Stephanie Hans (cover art, artist)
DIE is a pitch-black fantasy where a group of forty-something adults have to deal with the returning, unearthly horror they only just survived as teenage role-players.
The Flintstones : Volume 1 by Mark Russel (author) and Steve Pugh (illustrator)
Fred and Barney reunite for Mark Russell's modern take on Hanna-Barbera's most famous stone-age family!
Scarlet Witch : Volume 1 : Witches' Road by James Robinson (author) Vanesa del Rey (illustrator)
Witchcraft is broken – and the SCARLET WITCH is on a journey across the globe to fix it. From the back alleys of Manhattan, to the serene Greek Isles, to the bustling streets of Hong Kong, Wanda will have to face down her foes and find out who her true friends are. But as Wanda solves magical crimes and pieces witchcraft back together, the most important question remains: Who is the mastermind that broke it in the first place?
Vision : Volume 1 : Little Worse Than A Man by Tom King (author) Gabriel Hernandez (illustrator)
The Vision wants to be human, and what's more human than family? So he heads back to the beginning, to the laboratory where Ultron created him and molded him into a weapon. The place where he first rebelled against his given destiny and imagined that he could be more -that he could be a man. There, he builds them. A wife, Virginia. Two teenage twins, Viv and Vin. They look like him. They have his powers. They share his grandest ambition -or is that obsession? -the unrelenting need to be ordinary. Behold the Visions!