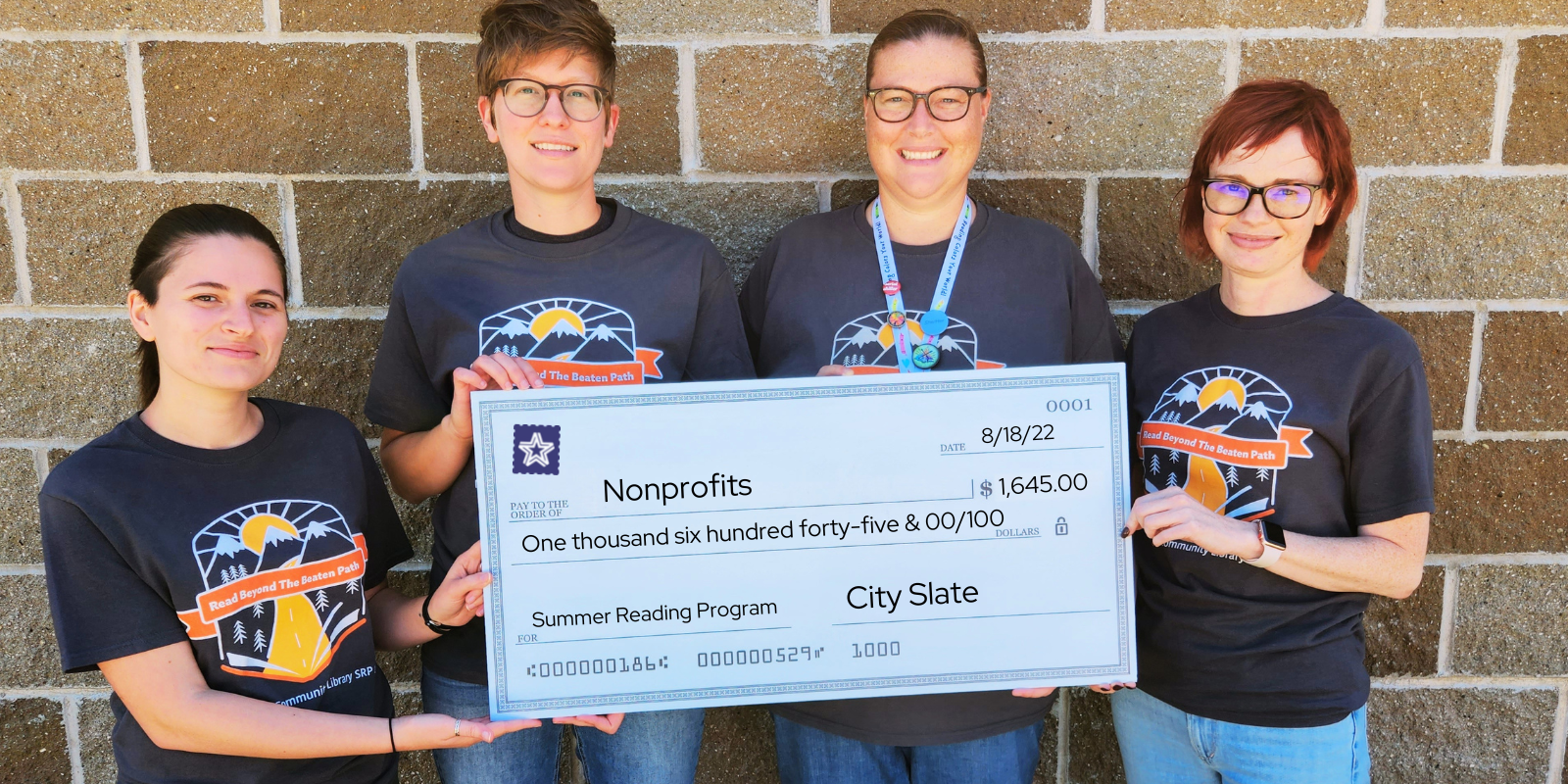 North Liberty Readers Raise $1645 for Local Nonprofits
August 30, 2022
Thank you to all who participated in the North Liberty Library's 2022 Summer Reading Program, Read Beyond the Beaten Path!
North Liberty's City Slate Sponsors; Adam Schechinger State Farm, Centro, Inc, The Eastern Iowa Airport – CID, GEICO Philanthropic Foundation, Hills Bank, MidWestOne Bank, Shive-Hattery, South Slope Cooperative, University of Iowa Hospitals & Clinics and Veridian Credit Union pledged to donate $5 to a local nonprofit for each person who completed the Summer Reading Program.
Participants logged their reading minutes and other qualifying activities into the program's digital app, reaching a minimum of 1400 points between June 1 and July 31, to earn $5 for Houses into Homes, Table to Table, and United Action for Youth.
Readers raised a total of $1,645, with the donation split between the three organizations based on the readers' choice.
$600 for Houses into Homes
$570 for Table to Table
$475 for United Action for Youth
Special thanks to these readers for completing the challenge
AaJonnia Walker • Aakanye Jordan • Aaliyah Walton • A'Armani Jordan • Abbie Jensen • Abby Maher • Abigail Rothfuss • Adalynn  Lucas • Adalynn McClure • Addie Dirks • Adeena Bila • Adriel Leeper • Aiden Spann • Aislyn McGuire • Alexander Bethke • Alexandra Ehlers • Alexis Lux • Alice Hahn • Alison Dill •  Aliyan Bila • Alli Levy • Allie Spann • Amanda Babcock • Amanda Brant • Amara Bila • Amber Skoglund  • Amelia Howard • Amelia Williamson • Amy Adamiec • Amy Lashmit • Amy Lewis • Amy Vu • Amy Wickliff • Anastasia Hasler • Andrea DeLarm • Andrew Hart • Anisa Riley • Anna Manternach • Annika Bates • Aria Wildemuth  • Arjun Gandhi • Arthur Salamo • Asher Bonner • Ashley Lopez • Ashley Swanson • Ashlyn Brubaker • Asim Shivapur • Atticus Bleich • Aubrey Hermann • Aubrianna Spann • Audie Beelner • Audrina Wildemuth • Austin Feldick • Ava S • Avani Wildemuth • Avery Baer • Ayden Bethke • Bea Ruth • Benjamin Spann • Benjamin Buschelman • Benjamin Liddell • Bethany Connon • Bev Amoroso • Blair Beck • Blake Whitty • Blaze Wolfe • Bowen Bender • Bradlea Kerr • Brandon Kuehl • Braxdyn McAtee • Braxten Gibson • Braylee McAtee • Brody Bender • Brooks Bender • Bryce Maher • Burhan Khan • Caemon Liddell • Cameron Todd • Cassie O'Brien • Cate Koeppen • Cayden Ruttum • Cecil Bates • Channing Bleich • Charlotte Varon • Cherie Nicola • Chloe Cozad • Christopher Hart • Claire Daly • Colin Finch • Corban Wilkinson • Curtis Lyons • Danielle Grandinetti • Dean Albright • Devan Worthington • Diane McGraw • Donny Trana • Eleanor Lientz • Eleanor Van Wickle • Eliana Long • Elise Anderson • Ella Johnson • Ella Lewis • Ellie Babcock • Ellie Moore • Elliot Schaefer • Elliot Yoon • Elliott Allen • Elsie Jean Beck • Emelyn Ward • Emily Kacmarynski • Emily Rothfuss • Emily Varon • Emma Martin • Emma Stein • Eric Ruttum • Erin Silva • Ethan Dill • Ethan Johnson • Ethan McClure • Ethan Wolfe • Eva Ortega • Evelyn Gessel • Evie Arends • Ezekiel Yotty • Faith Binder • Faye Guo • Fiatala Salamo • Finn Leckband • Finn Ruth • Gaurika Sharda • Grace Claeys • Graham  Hubler • Graham Adrian • Grayson Ward • Griffin Adrian • Hank Jay • Harper Klein • Hazel Harrison • Heather Trana • Henry Watson • Hillary May • Holden Bredfield • Hunter Todd • Ian Morris • Isaac Dahlke • Isabel Dugdale • Isaiah Mitchell • Isla Baer • Isla Kelly • Jack Hubler • Jack Worley • Jackson Babcock • Jackson Bernabe • Jackson Waddell • Jacob Wolfe • Jacob Eisenhammer • Jaimie Johnson • James Hahn • James Maher • Jamie Bagan • Jamie Helmick • Jaxon Levy • Jean Post • Jennifer Brockway • Jessi Benest • Jessica Beck • Jessica Hubler • John Jesse • Jonah Reiten • Joshua Eisenhammer • Josie Jay • Judah Wolfe • Julian Diaz • Julie Schmidt • Julietta Hasler • June Ahlf • Kaeson Trana • Kamden Trana • Kara Adrian • Katherine Kuehl • Kayla  Hubler • Kayla Hodgson • Kayla Ruth • Kaylee Vu • Kelsi Dill • Kendyl Trana • Keygan Trana • Klaira Swindler • Krishiv Mahadik • Krishna Pagedar • Kristen Eisenhammer • Kynzie Trana • Kyree Leeper • L Bucheit • Lainey Pauly • Lanae Gibson • Landon Spann • Larissa Gasperetti • Laura  Anderson  • Laura McMillin • Lavita Wilkinson • Leah Maher • Leighana Rose • Levi Neuhaus • Levi Spann • Lexi Liu • Lia Pagedar • Liam Babcock • Liliana Lewis • Lillian Ward • Lilly Clark • Lilly Smith • Lincoln Miller • Lindsay Todd • Liz Smith • Logan DeLarm • Logan Hermann • Logan Van Zuiden • Lois Feuss • Luqmaan Khan • Luther Anderson • Lyndie Lyons • Maddie Mitchell • Madeline Brant • Madelyn Lane • Malia Lewis • Margaret Donnelly • Mariah Black • Mariana Galvan • Marvin Nicola • Mason Waddell • Matt Brockway • Matt Eisenhammer • Matt Harvey • Matt Hylland • Max Granfield • Megan Bildner • Melanie Harrison • Michelle Bueche • Michelle Forrester • Miles Bredfield • Miles Leckband • Miles Leckvand • Miles Riggins • Milo Martinez • Nash Harrison • Nathan Harvey • Nicole Watson • Noah Liu • Nora Manternach • Obadiah Walton • Olen Hylland • Oliver  McKean • Olivia Hancock • Oscar Lewis • Owen  Brockway • Owen Bildner • Owen DeLarm • Owen Guo • Owen Van Wickle • Paris Wolfe • Parker Gibson • Paul Kaczinski • Payton  Wiliams • Penelope Bausch • Peter Palmer • Peyton Liu • Phoebe Todd • Piper Todd • Rachel Liddell • Rachel McMillin • Rachel Salamo • Rae Gimre • Rayhan Khan • Rebecca Rothfuss • Rebekah McMillin • Reece Galloway • Regan Kerr • Reid Ballard • River McMartin • Rose Buxton • Rose Claeys • Rose Cozad • Rosemary Moore • Ruth Koonce • Ryan Wu • Ryder Ehlers • Sally Rose Benest • Sam McMillin • Sarah Keedy • Sarah Maxwell • Sarah Mitchell • Scarlett Hasler • Scott Clemons • Sean Ellis • Sera Coate • Shelda Brenner • Shelisa Wolfe • Sienna Soride • Simon McKean • Sofia Brockway • Sophia Pentecost • Stacia Klaas • Stella Daly • Stephany Newkirk • Sullivan Ballard • Sullivan O'Brien • Tabitha Rasmussen • Tara Turecek • Theo Feldick • Thomas Varon • Tiago Dugdale • Tiffanie Tonelli • Tristan Newkirk • Violet Liddell • Vivian Smith • Wesley Buxton • William Gibson • William Morris • Winston Wickliff • Wyatt Ehlers • Wyatt Palmer • Yahzare Griffin • Yvonne Page • Zach Ryckman • Zachary Diaz • Zedekiyah Griffin • Zenab Bashir • Zion Griffin