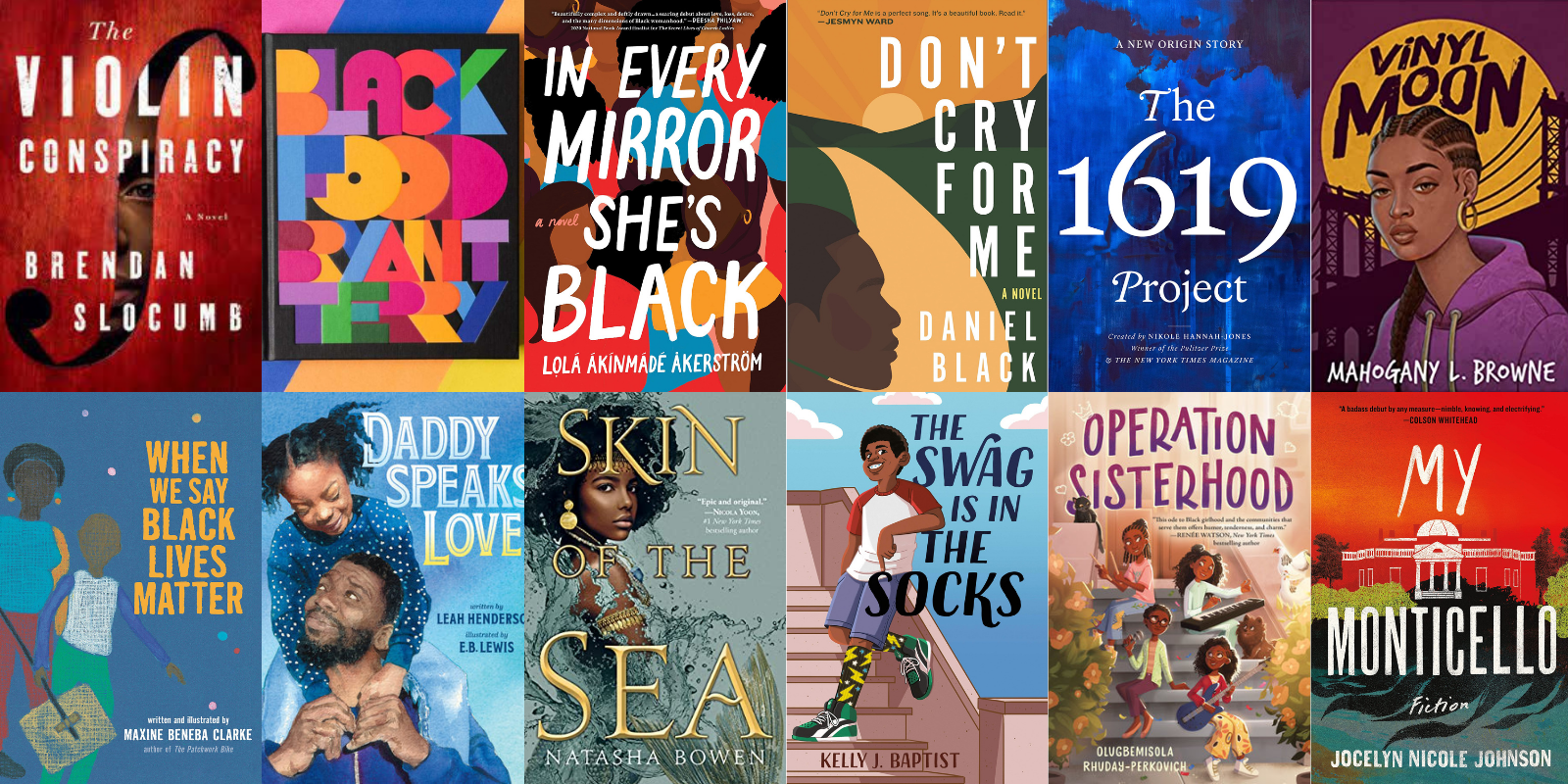 New #OwnVoices Books by Black Authors
February 9, 2022
Check out these new books across genres and age ranges by Black authors!
Adult Fiction
In Every Mirror She's Black by Lola Akinmade Åkerström: Three Black women are linked in unexpected ways to the same influential white man in Stockholm as they build their new lives in the most open society run by the most private people. Told through the perspectives of each of the three women, In Every Mirror She's Black is a fast-paced, richly nuanced yet accessible contemporary novel that touches on important social issues of racism, classism, fetishization, and tokenism, and what it means to be a Black woman navigating a white-dominated society.
The Violin Conspiracy by Brendan Slocumb: Growing up Black in rural North Carolina, Ray McMillian's life is already mapped out. If he's lucky, he'll get a job at the hospital cafeteria. If he's extra lucky, he'll earn more than minimum wage. But Ray is determined to become a world-class professional violinist. When he discovers that his great-great-grandfather's beat-up old fiddle is actually a priceless Stradivarius, all his dreams suddenly seem within reach. But on the eve of the renowned and cutthroat Tchaikovsky Competition—the Olympics of classical music—the violin is stolen, a ransom note for five million dollars left in its place. Ray will have to piece together the clues to recover his treasured Strad before it's too late.
Don't Cry For Me by Daniel Black: As Jacob lies dying, he begins to write a letter to his only son, Isaac. They have not met or spoken in many years, and there are things that Isaac must know. Stories about his ancestral legacy in rural Arkansas that extend back to slavery. Secrets from Jacob's tumultuous relationship with Isaac's mother and the shame he carries from the dissolution of their family. Tragedies that informed Jacob's role as a father and his reaction to Isaac's being gay. But most of all, Jacob must share with Isaac the unspoken truths that reside in his heart. He must give voice to the trauma that Isaac has inherited. And he must create a space for the two to find peace.
My Monticello by Jocelyn Nicole Johnson: Virginia's landscapes, emblems, and Thomas Jefferson's historic plantation set the stage for a cast of unforgettable characters fighting for their right to exist in America. A young woman descended from Thomas Jefferson and Sally Hemings driven from her neighborhood by a white militia. A university professor studying racism by conducting a secret social experiment on his own son. A single mother desperate to buy her first home even as the world hurtles toward catastrophe. Each fighting to survive in America. United by these characters' relentless struggles against reality and fate, My Monticello is a formidable collection that bears witness to this country's legacies and announces the arrival of a wildly original new voice in American fiction.
Adult Non-Fiction
Black Food by Bryant Terry: A beautiful, rich, and groundbreaking book exploring Black foodways within America and around the world, curated by food activist and author of Vegetable Kingdom Bryant Terry.
The 1619 Project by Nikole Hannah-Jones: In late August of 1619, a ship arrived in Jamestown bearing a cargo of twenty to thirty enslaved people from Africa. Their arrival inaugurated a barbaric and unprecedented system of chattel slavery that would last for the next 250 years. This is sometimes referred to as the country's original sin, but it is more than that: It is the country's very origin. The 1619 Project ultimately sends a very strong message: We must have a clear vision of this history if we are to understand our present dilemmas. Only by reckoning with this difficult history and trying as hard as we can to understand its powerful influence on our present, can we prepare ourselves for a more just future.
Young Adult
Vinyl Moon by Mahogany L. Browne: When Darius told Angel he loved her, she believed him. But five weeks after the incident, Angel finds herself in Brooklyn, far from her family, from him, and from the California life she has known. Angel feels out of sync with her new neighborhood. At school, she can't shake the feeling everyone knows what happened—and that it was her fault. The only place that makes sense is Ms. G's class, where the words from Black writers like Toni Morrison, James Baldwin, and Zora Neale Hurston speak to her and begin to heal the wounds of her past. This stunning novel weaves together prose, poems, and vignettes to tell the story of Angel, a young woman whose past was shaped by domestic violence but whose love of language and music and the gift of community grant her the chance to find herself again.
Skin of the Sea by Natasha Bowen: Transformed by the goddess Yemoja into a Mami Wati, an African mermaid charged with collecting the souls of those who die at sea, Simi goes against the gods to save the living boy Kola from drowning.
Juvenile
The Swag Is in the Socks by Kelly J. Baptist: Twelve-year-old Xavier Moon gets the courage to step out of the shadows when his great-uncle gives him some outlandish socks and some even stranger requests.
Operation Sisterhood by Olugbemisola Rhuday-Perkovich: Eleven-year-old Bo is used to it being just her and her mom in their cozy New York apartment, but when her mom gets married, Bo must adjust to her new sisters and a music-minded blended family that is much larger, louder, and more complex than she ever imagined.
Primary
When We Say Black Lives Matter by Maxine Beneba Clarke: In this exuberant exploration of the Black Lives Matter motto, a loving narrator relays to a young Black child the strength and resonance behind the words.
Daddy Speaks Love by Leah Henderson: A tribute to the joy and grounding that fathers bring to their children's lives.
Bonus: Admittedly these aren't books….. but Kanopy has a Black History Month collection with documentaries, films, and shows. You can access the entire collection and more for free with your library card.