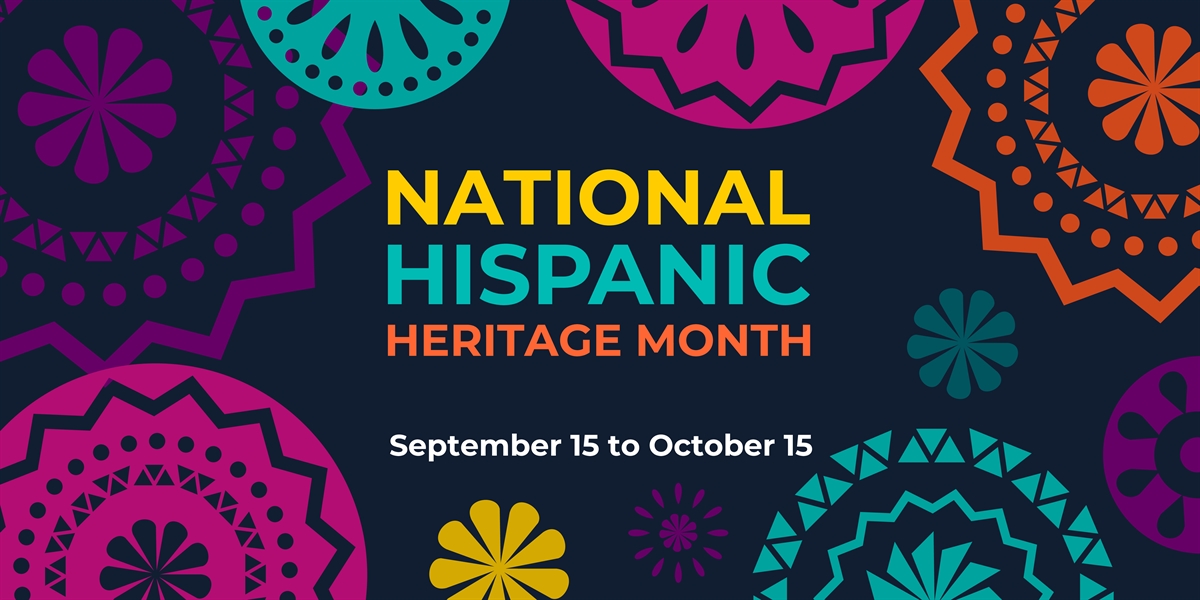 Hispanic Heritage Month
September 15, 2021
What is Hispanic Heritage Month?
National Hispanic Heritage Month takes place annually from September 15 – October 15 and honors the histories, cultures and contributions of American citizens whose ancestors came from Spain, Mexico, the Caribbean and central South America.
Available Resource & Suggested Reads
Early Literacy Games in Spanish bilingual games that focus on early literacy topics such as numbers and animals.
Kanopy will be highlighting films and documentaries in a specially curated collection for Hispanic Heritage Month that reflects unique Latino experiences and contributions in America as well as the diverse stories that have shaped a rich cultural identity.
Mango Languages provides a self-paced learning program that teaches languages through relevant and topical dialogue using the four key components — vocabulary, pronunciation, grammar, and culture — for improving proficiency in another language.
Tumblebooks a collection of children's eBooks with more than 1100 titles for grades K-6, including books in Spanish and French.
Unite for Literacy provides digital access to picture books, narrated in languages such as Spanish.
Storytellers' Picks: Latin American Countries, Characters, and Stories
Across the Bay by Carlos Aponte
Alma and How She Got Her Name by Juana Martinez-Neal
Carmela Full of Wishes by Matt de la Peña
Dancing Hands by Margarita Engle
Dreamers by Yuji Morales
Juana & Lucas by Juana Medina
Mango, Abuela and Me by Meg Medina
My Papi Has a Motorcycle by Isabel Quintero
Stella Diaz Has Something to Say by Angela Dominquez
¡Vamos! Let's Go Eat by Raul the Third
Reads for Tweens and Teens
Bravo! Poems About Amazing Hispanics by Margarita Engle
Clap When You Land by Elizabeth Acevedo
The First Rule of Punk by Celia C. Pérez
Furia by Yamile Saied Méndez
I Am Not Your Perfect Mexican Daughter by Erika Sanchez
Juliet Takes a Breath by Gabby Rivera
Mexican Whiteboy by Matt de la Peña
More Happy Than Not by Adam Silvera
Nuestra America: 30 Inspiring Latinas/Latinos Who Have Shaped the United States by Sabrina Vourvoulias
The Poet X by Elizabeth Acevedo
Sal and Gabi Break the Universe by Carlos Hernandez
They Call Me Guero: A Border Kid's Poems by David Bowles
What If It's Us by Becky Albertalli and Adam Silvera
Celebrating Latinx Authors
The Book of Unknown Americans by Cristina Henríquez
Children of the Land by Marcelo Hernandez Castillo
It Is Wood, It Is Stone by Gabriella Burnham
A Long Petal of the Sea by Isabel Allende
The Lost Children Archive by Valeria Luiselli
Mexican Gothic by Silvia Moreno-Garcia
Of Women and Salt by Gabriela Garcia
Spirit Run by Noé Álvarez
What's Mine and Yours by Naima Coster
Other Resources to Explore
Google Arts & Culture – Latino Cultures in the US Celebrate and explore the experiences, culture, and contributionsof Hispanic Americans who have shaped Latino – and American – history.
Hispanic Heritage and Inventions Recognizing the achievements and contributions of Hispanic American champions, this site contains online exhibits, video resources and more.
PBS Learning Media In honor of Hispanic Heritage Month, PBS has curated free educational resources that explore the experiences, culture, and contributions of Hispanic Americans who have shaped Latino—and American—history. Curriculum-aligned videos, activities and lesson plans are available to deepen awareness of Hispanic American and Latino artists, educators, icons, and everyday people while also building a foundational understanding of the Spanish language.