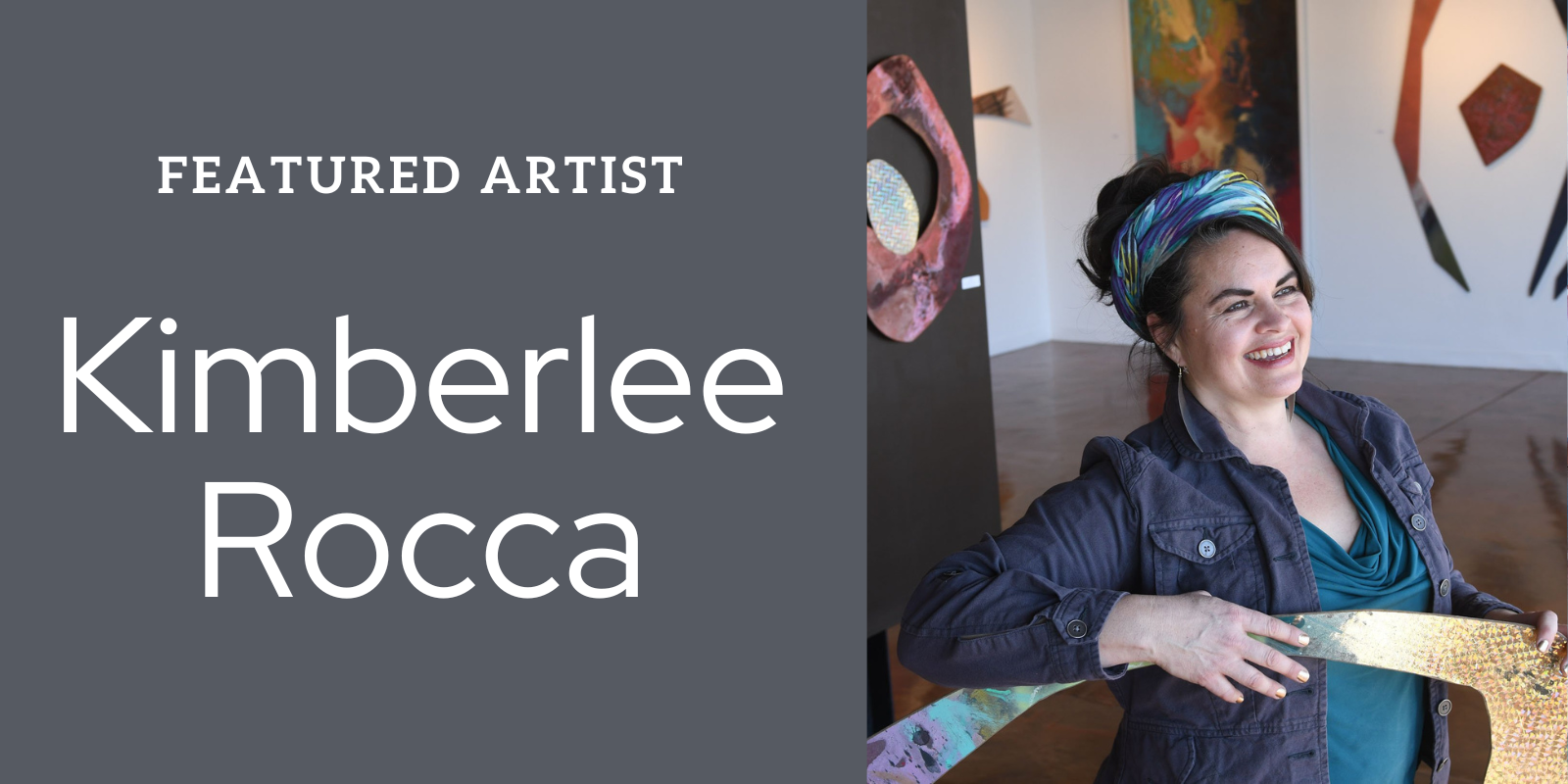 Featured Artist: Kimberlee Rocca
April 4, 2023
Kimberlee Rocca

ARTIST BIO
Born in New Jersey and raised in Iowa, Kimberlee Rocca studied Design, Printmaking, and Fiber Arts at The University of Iowa before earning her BFA in Metal Smithing in 1991. During her studies, Rocca was introduced to Foil Imaging, a unique process which combines traditional printmaking techniques with commercial foil printing processes. She has spent the last 30+ years exploring this incredibly seductive medium. While her foil works are unique, she also works extensively in Mixed Media on Paper, Canvas, Wood Panel and Aluminum in 2 and 3 dimensions. These medium explorations fuel the creativity in her two-dimensional works and sculptural installations included in collections of The University of Iowa, The University of Missouri St. Louis, and Kirkwood Community College.
Kimberlee writes, "My abstract wall collages, sculptures and paintings are born out of a focus on a unique printmaking process called Foil Imaging. The action of manipulating and applying foils to metal, paper and wood with a careful selection of bold colors, simple shapes, and delicate details sets my creative language ablaze. My abstract works reveal a collision of the natural world of sunsets, waters, mountains and fires with the salvaged woods, papers and canvases to create a touch of the natural and supernatural within the walls of man made structures. The interpretations of my work are limitless, which is part of what I love about abstraction.
I work with foils, paints, pastels, pencils and oil crayons on wood, canvas, paper and metals. As I grow in my expression I am moving more heavily into 3 dimensional wall and freestanding sculptures. Continual exploration of tools, techniques and mediums is what fuels my creativity. With the use of salvaging construction debris from our jobsites, my supply of materials is almost limitless and frees me to explore with abandon.
I currently reside in Solon, Iowa with my husband and 4 children where I continuously create.  In addition to my artworks, I design, draft and build custom homes.  Everything in my life is about furthering artistic connectivity of unique places, people, and stories, with a focus on reaching out in the most colorful way possible."
Showcase Artwork at the Library
If you are a local artist interested in showcasing your artwork at the library contact Kellee by calling the library at (319)626-5701 or by email at kforkenbrock@northlibertyiowa.org.