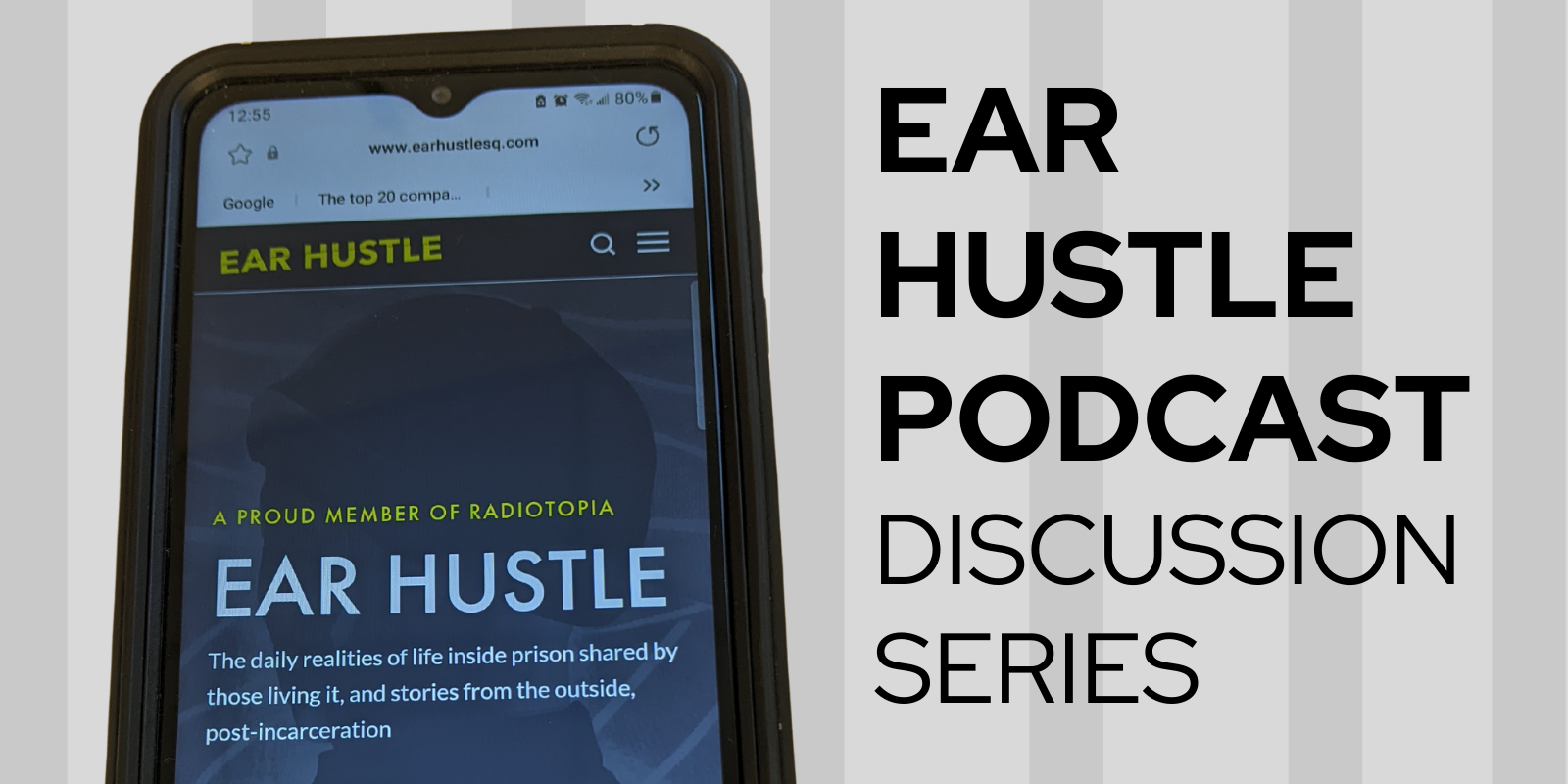 Ear Hustle Podcast Discussion Series
March 9, 2022
Join us for a virtual Ear Hustle Podcast Discussion Series
Each session will begin with a discussion by community members who provide or have received support before, during, and after incarceration and the ways each are building communities of caring to promote healing justice. There will be time for Q&A followed by a discussion on the selected podcast episode. *A brief synopsis of each podcast will be offered for participants who may not have had a chance to listen.
Register via Zoom: https://bit.ly/3hhEULx
March 16, 6:30 PM
Speakers: Michelle Heinz, Executive Director of Inside Out, additional guests Inside Out Reentry Community
Ear Hustle Podcast: Episode 29: Kissing the Concrete
March 23, 6:30 PM
Annie Tucker, Roster Mediator, additional guests Mediation Services of Eastern Iowa
Ear Hustle Podcast: Episode 36: Tell Christy I Love Her
March 30, 6:30 PM
Mary L. Cohen and choir members from the Oakdale Community Choir
Ear Hustle Podcast: Episode 31: Inside Music
Press Citizen: Oakdale Community Choir returns with an important message
---
EAR HUSTLE BRINGS YOU THE DAILY REALITIES OF LIFE INSIDE PRISION SHARED BY THOSE LIVING IT, AND STORIES FROM THE OUTSIDE, POST-INCARCERATION.
Ear Hustle launched in 2017 as the first podcast created and produced in prison, featuring stories of the daily realities of life inside California's San Quentin State Prison, shared by those living it. Co-founded by Bay Area artist Nigel Poor alongside Earlonne Woods and Antwan Williams — who were incarcerated at the time — the podcast now tells stories from inside prison and from the outside, post-incarceration. In 2019, Rahsaan "New York" Thomas joined Ear Hustle as a co-host inside San Quentin.