Butterfly Garden
April 30, 2021
Butterfly Garden and Pollinator Habitat
One of the raised bed gardens just North of the library by the playground has been transformed into a butterfly oasis. This space has been created to provide habitat for various life stages of native butterflies. Nectar sources for bees and butterflies and host plants feed the caterpillars. Plants and garden design provided by our friends at Forever Green.
Habitat Includes:

Ornamental Onion
Pentas
Curled Parsley – attracts Swallowtails
Lantanas
Butterfly Flower
Bee Balm
Salvia
Rocks – for butterflies to rest and sun themselves
Life Cycle of a Butterfly:
Here is an illustrated life cycle of a butterfly from author and illustrator Ross Burach.
Check out the books in his butterfly series;  The Very Impatient Caterpillar and The Little Butterfly that Could.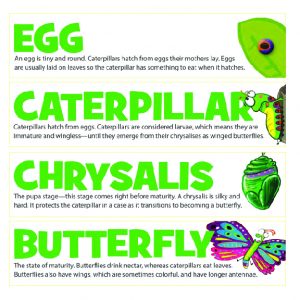 Fun Facts:
Visit ThoughtCo. for additional fun facts.
Butterfly wings are actually transparent. They have thousands of tiny scales that reflect light in different colors.
Butterflies will drink from mud puddles for essential nutrients.
Butterflies have taste receptors on their feet.
Butterflies are unable to fly at temperatures below 55 degrees Fahrenheit.
---
North Liberty's Summer Slate is supported by :