Bubble Tea!
March 15, 2021
YLAH Adult Bubble Tea Kit
The original recipe by Lisa Lin from Healthy Nibbles serves 4 but for the purpose of our kit the recipe has been modified to a single serving. In addition to the ingredients included in your kit you will need milk/creamer, water, and ice.
Ingredients:
2 bags of Tea (we have included black tea, but green or a blended black tea with berries works too)
Honey
1/4 cup tapioca pearls
8 oz. water
Ice
1  1/2 tbsp milk, creamer, or plant-based milk
Directions:
1. Prepare tea
a.  Boil 8oz of filtered water and steep 2 tea bags with honey until the water cools completely. If you like very sweet tea, you can use 2 honey packets.
b.  Remove the tea bags once the water is cool. If you want to do this ahead of time, it will keep in the fridge (sealed) for a day or two.
2. Cook the tapioca pearls
a.  Boil enough water in a saucepan so there is room for them to float to the top of the pan (3-4 cups should be enough).
b.  Stir the pearls and wait for them to float to the top. Cook them for another 5 minutes.
c.  If they are still stiff, cook for a minute or two more.
3. Assemble
a.  Add the tapioca pearls to a large glass. Add a few ice cubs to the glass, then pour the brewed tea atop. Add 1 ½ tbsp of milk, stir, and taste. Add more milk to taste.
b.  Drink with an extra wide reusable straw (bubble tea straws) or use a spoon to make sure you don't leave those pearls behind!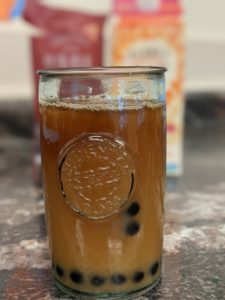 Recommended Reads:
NONFICTION
The Boba Book: Bubble Tea and Beyond by Andrew Chau
For All the Tea in China by Sarah Rose
FICTION
A Cuban Girl's Guide to Tea and Tomorrow by Laura Taylor Namey
The Tea Girl of Hummingbird Lane by Lisa See
Death by Darjeeling by Laura Childs (#1 in Tea Shop Mystery Series)
The Tea Dragon Festival by Katie O'Neill (#1 in the Tea Dragon series)
Teatime for the Firefly by Shona Patel