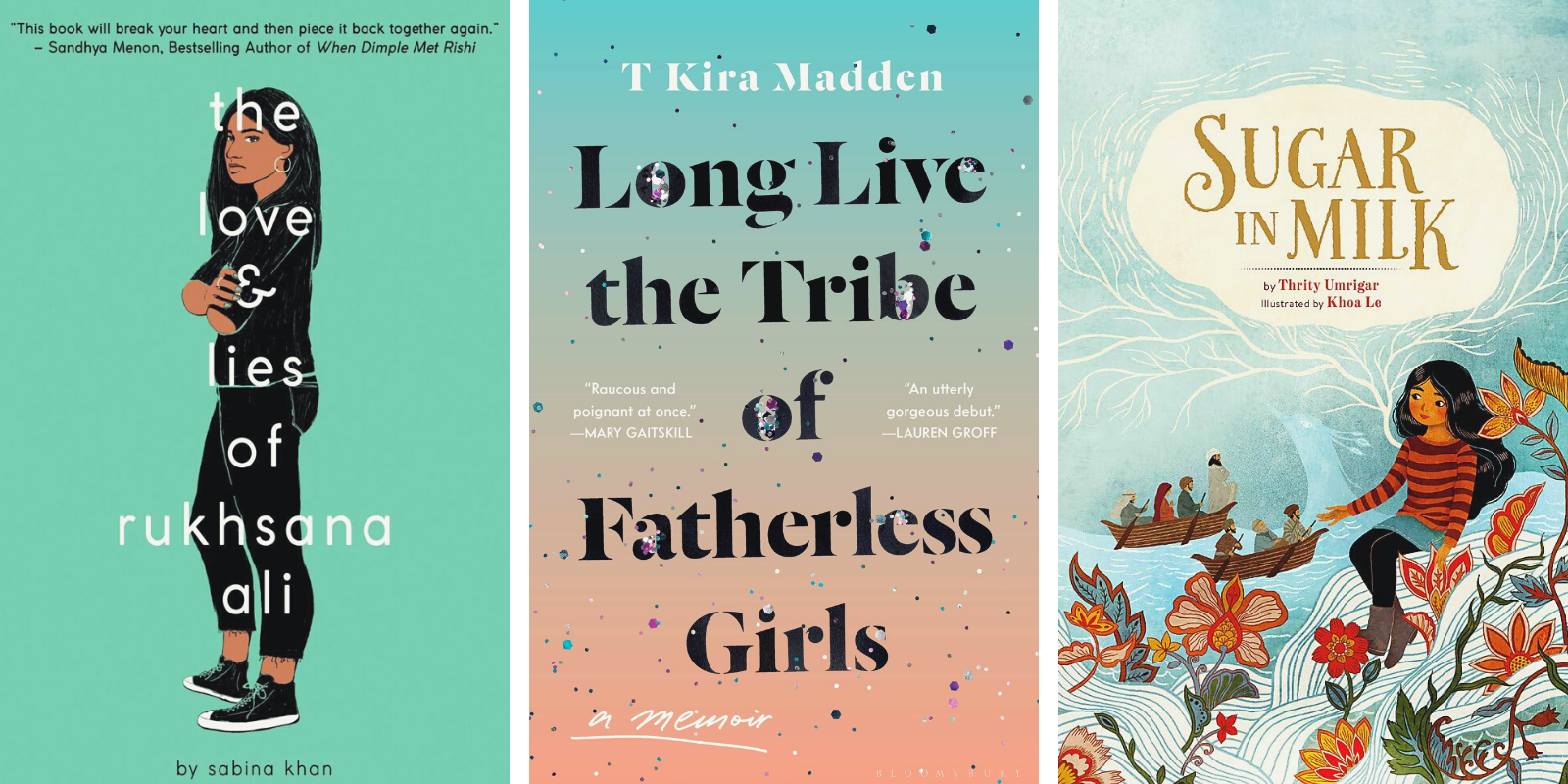 Asian American and Pacific Islander Heritage Month
May 1, 2021
May is Asian American and Pacific Islander Heritage Month! Check out some of these great #OwnVoices reads:
Adult Reads
Nestled in New York's Hudson Valley is a luxury retreat boasting every amenity: organic meals, personal fitness trainers, daily massages– all for free. In fact, you're paid big money– more than you've ever dreamed of. The catch? For nine months, you cannot leave the grounds, your movements are monitored, and you are cut off from your former life while you dedicate yourself to  producing the perfect baby. For someone else. Jane, an immigrant from the Philippines, is in desperate search of a better future when she commits to being a "Host" at Golden Oaks– or the Farm, as residents call it. But now pregnant, fragile, consumed with worry for her family, Jane is determined to reconnect with her life outside. Yet she cannot leave the Farm or she will lose the life-changing fee she'll receive on the delivery of her child.
Gold Diggers by Sanjena Sathian
A floundering second-generation teenager growing up in the Bush-era Atlanta suburbs, Neil Narayan is funny and smart but struggles to bear the weight of expectations of his family and their Asian American enclave. He tries to want their version of success, but mostly, Neil just wants his neighbor across the cul-de-sac, Anita Dayal. When he discovers that Anita is the beneficiary of an ancient, alchemical potion made from stolen gold—a "lemonade" that harnesses the ambition of the gold's original owner—Neil sees his chance to get ahead. But events spiral into a tragedy that rips their community apart. Years later in the Bay Area, Neil still bristles against his community's expectations—and finds he might need one more hit of that lemonade, no matter the cost. Sanjena Sathian's astonishing debut offers a fine-grained, profoundly intelligent, and bitingly funny investigation into what's required to make it in America.
Young Adult/ Teen Reads
The Love and Lies of Rukhsana Ali by Sabina Khan
Seventeen-year-old Rukhsana Ali is looking forward to going to Caltech and getting away from her conservative Muslim parents' expectation that she will marry, especially since she is in love with her girlfriend Ariana–but when her parents catch her kissing Ariana, they whisk Rukhsana off to Bangladesh and a world of tradition and arranged marriages, and she must find the courage to fight for the right to choose her own path.
Last Night at the Telegraph Club by Malinda Lo
America in 1954 is not a safe place for two girls to fall in love, especially not in Chinatown. Red-Scare paranoia threatens everyone, including Chinese Americans like Lily. With deportation looming over her father—despite his hard-won citizenship—Lily and Kath risk everything to let their love see the light of day.
Middle Grade Reads
Amina, a Pakistani-American Muslim girl, struggles to stay true to her family's culture while dealing with the vandalism of the local Islamic Center and mosque and her best friend Soojin's new friendship with their former nemesis.
Recent immigrants from China and desperate for work and money, ten-year-old Mia Tang's parents take a job managing a rundown motel in Southern California, even though the owner, Mr. Yao,  is a nasty skinflint who exploits them; while her mother (who was an engineer in China) does the cleaning, Mia works the front desk and tries to cope with demanding customers and other recent immigrants–not to mention being only one of two Chinese in her fifth grade class, the other being Mr. Yao's son, Jason.
Picture Books
Sugar in Milk by Thrity Umrigar
A young immigrant girl joins her aunt and uncle in a new country that is unfamiliar to her. She struggles with loneliness, with a fierce longing for the culture and familiarity of home, until one day, her aunt takes her on a walk. As the duo strolls through their city park, the girl's aunt begins to tell her an old myth, and a story within the story begins.
Eyes That Kiss In the Corners by Joanna Ho
A young Asian girl notices that her eyes look different from her peers'. They have big, round eyes and long lashes. She realizes that her eyes are like her mother's, her grandmother's, and her little sister's. They have eyes that kiss in the corners and glow like warm tea, crinkle into crescent moons, and are filled with stories of the past and hope for the future. Drawing from the strength of these powerful women in her life, she recognizes her own beauty and discovers a path to self-love and empowerment.
Nonfiction Titles
Long Live the Tribe of Fatherless Girls by T Kira Madden
T Kira Madden's raw and redemptive debut memoir is about coming of age as a queer, biracial teenager in Boca Raton, Florida, a place where she found cult-like privilege, shocking racial disparities, rampant white-collar crime, and powerfully destructive beauty standards hiding in plain sight. Spanning from 1960s Hawai'i to the present-day struggle of a young woman mourning the loss of a father while unearthing truths that reframe her reality, Long Live the Tribe of Fatherless Girls is equal parts eulogy and love letter. It's a story about trauma and forgiveness, about families of blood and affinity, both lost and found, unmade and rebuilt, crooked and beautiful.
The Groom Will Keep His Name by Matt Ortile
When Matt Ortile moved from Manila to Las Vegas, the locals couldn't pronounce his name. Harassed as a kid for his brown skin, accent, and femininity, he believed he could belong in America by marrying a white man and shedding his Filipino identity. This was the first myth he told himself. The Groom Will Keep His Name explores the various tales Ortile spun about what it means to be a Vassar Girl, an American Boy, and a Filipino immigrant in New York looking to build a home. Ortile recounts the relationships and whateverships that pushed him to confront his notions of sex, power, and the model minority myth. Whether swiping on Grindr, analyzing DMs, or cruising steam rooms, Ortile brings us on his journey toward radical self-love with intelligence, wit, and his heart on his sleeve.
Graphic Novels
The meticulous artwork of transgender artist Bishakh Som gives us the rare opportunity to see the world through another lens. The graphic novel explores the concept of identity by inviting the reader to view the author moving through life as she would have us see her, that is, as she sees herself. Framed with a candid autobiographical narrative, this book gives us the opportunity to enter into the author's daily life and explore her thoughts on themes of gender and sexuality, memory and urbanism, love and loss.
The Best We Could Do by Thi Bui
Thi Bui documents the story of her family's daring escape after the fall of South Vietnam in the 1970s, and the difficulties they faced building new lives for themselves. At the heart of Bui's story is a universal struggle: While adjusting to life as a first-time mother, she ultimately discovers what it means to be a parent—the endless sacrifices, the unnoticed gestures, and the depths of unspoken love. Despite how impossible it seems to take on the simultaneous roles of both parent and child, Bui pushes through. With haunting, poetic writing and breathtaking art, she examines the strength of family, the importance of identity, and the meaning of home.