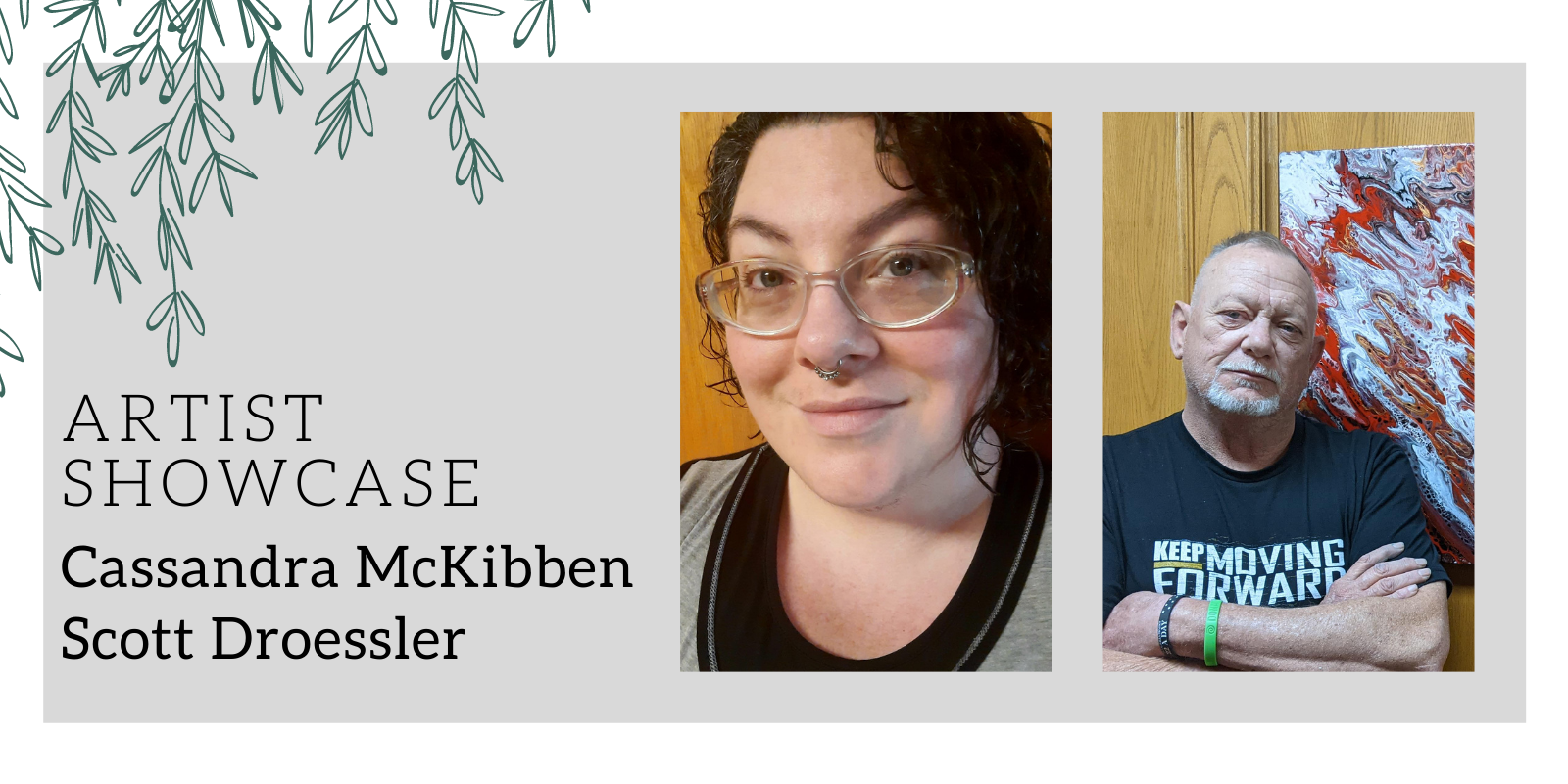 Artist Showcase: Cassandra & Scott
July 1, 2021

Cassandra McKibben

ARTIST BIO

Cassandra is a student, artist, and veteran who lives in North Liberty. Much of her work, focusing on mental health surrounding trauma, uses multiple formats such as digital, painting and sculpture. Her most recent work focuses on the hope and healing trauma sufferers can find through art.
As a trauma survivor, Cass is passionate in helping other trauma victims process their experiences through their own art. Her work is vibrant and cohesive, demonstrating the power art can have in the healing process.
Cass's goal is to become an art teacher to veterans to present art as an accessible tool in recovery.
---

Scott Droessler

ARTIST BIO
Artist Scott Droessler achieved a formal arts education, graduating with a B.F.A. from Mount Mercy University. His senior thesis was in glass with concentration in printmaking and drawing.
His School of Hard Knocks, however, began at age 17 when he enlisted in the Army and National Guard. Droessler rose to the rank of Master Sergeant (MSG) and notably served in harm's way during Desert Storm (1991-1992) and Operation Iraqi Freedom (2003-2004). MSG Scott Droessler honorably retired after 26 years of service to our Country. His military experience shaped his life and manifested an edgy yet capable leader.
Droessler recognized a need in our community and combined his passions by founding a non-profit organization, the "Community of Artists and Veterans." The C.A.V. is located on the 5th floor of the Veterans Memorial Building, in downtown Cedar Rapids. The open atmosphere creates a safe place for military veterans and families to explore one or a variety of mediums. The studio space provides various veteran-led artistic instruction that continues the sense of camaraderie one gains from military service.
Droessler shares, "Through art, veterans can engage with a community. This allows for integration back in to society which sounds easy but may not—or is not—always the case." He continues, "The bottom line is we [C.A.V.] are a studio of Veterans. Veterans supporting Veterans through creative dialog and continued learning."
---
Showcase Artwork at the Library
If you are a local artist interested in showcasing your artwork at the library contact Kellee by calling the library at (319)626-5701 or by email at kforkenbrock@northlibertyiowa.org.